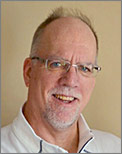 Tim Walker
About the instructor
Timothy J. Walker is an internationally recognized expert and consultant in web handling and winding processes and president of TJWalker and Associates, Inc. He specializes in design, development, and education for handling and winding web products, helping many clients in their development of thinner, wider, faster, more precise, or more integrated processing.
Tim works with clients to expand their business or improve profits by enabling difficult or marginal quality materials or by reducing waste from wrinkling, scratching, curl, bagginess, roll quality, and tension/nip variations. He has consulted with over 150 client companies and taught web handling to over 4000 students.
Tim works with any web process, from traditional converting, printing, and die cutting of film and paper product to other industries where webs play a key role, including flexible electronics, battery films/foils, optical films, medical/pharmaceutical, graphics, construction materials, and steel/foil.
Before starting his own company, TJWA Inc. in 1999, Tim was with 3M Company for 17 years, working in their polyester film and corporate web handling technology groups. Prior to leaving 3M, he was a process development specialist, leading the web handling development planning and education across all divisions and serving as the 3M representative to the Oklahoma State
He has a BS in Mechanical Engineering from the University of Iowa and an MS in Management of Technology from the University of Minnesota.  Tim resides with his wife and three children in St. Paul, MN.
Contact Me